Gosh. This was like a week ago.
I'm so lame.
Anywhoooooo.
If you have been a reader of this blog for awhile, then you already know I love me some Superheroes. And I'm not alone. My husband is the biggest Superman fan I've ever met. (In case you were wondering, Wolverine/The X-Men are MY favorite in the world. And Thor. And Batman).
So of COURSE we went to the midnight premier of Man of Steel. And not only was it a midnight premiere, it was also a block party! We had time to spare (see above pictures haha!) so we went out to eat and walked around Wal-Mart for awhile. And tried on children's masks. #wewillnevergrowup
We got to the "party" at around 10:30 and got our raffle tickets. I was crossing my fingers for the $100 gift card to the local tattoo shop, but of course, neither of us won anything haha!
But there WAS cupcakes and cake balls. So in the end, we did win. We won deliciousness.
Ya'll. Those cake balls were SO amazing. I can't even. They just mmmmmmmm. <----that's the best description I can give you.
Just look at my husband's face. Bless his heart. He was just so excited. About the movie AND the cupcake.
See, a local law office provided FREE tickets to anyone who "liked" and shared their FB page. How generous is that?! There was a live band, old time Looney Tunes playing in certain theaters, and of course the cupcakes from a local bakery. There was even face painting for kids. And I'm not talking little ladybugs on the cheek type of face paint. I'm talking your whole face is painted. I saw a Spiderman, a fairy, and bless his heart….I saw a kid with a Mike Tyson tattoo painted on him. His parents should be proud…..I think it's amazing that a small town comes together like this to provide a fun event for the community (even though it's not OUR community lol. We live 15 minutes away).
Duck face with our 3-D glasses. And I kid you not….this was my husband's idea. HAHA!! I love him.
The movie was amazing. I loved how they made this one more "Sci-fy-ey" than the others. I mean, Christopher Nolan directed it. Of course it was going to be a great movie.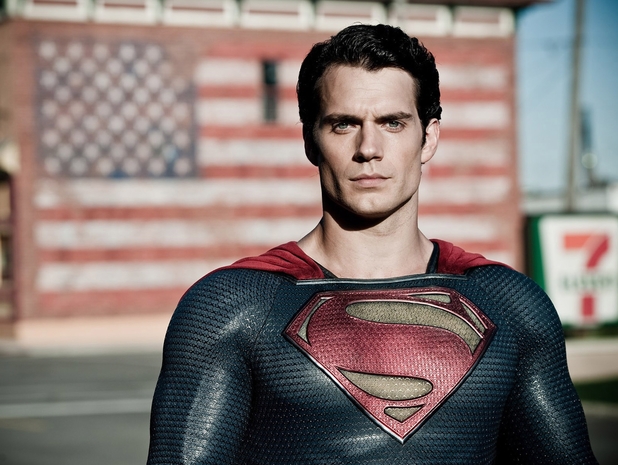 Henry Cavill made an excellent Superman. Am I right ladies? Or am I right? Or perhaps this is more your type:
Oh yes. Henry Cavill with a BEARD.
I just have a thing for bearded, rugged, manly men.
That's my man, Logan.
AKA Wolverine.
AKA back off because you can't have him because I love him.
Phew.

I'm sorry. This post was supposed to be about Clark Kent, but somehow I lost track.
Us in our Superman shirts.
There's a saying for people like us: "A couple that loves Comics together, is the most awesome couple in the world."

I'm sure someone famous quoted that.

I'm totally sure.

GO SEE MAN OF STEEL!
Seriously ladies. Quit dragging your man to soppy lovey dovey movies. I promise it will make him happy lol.
PS- Sometimes I watch soppy lovey dovey movies. So I'm not downing you romantics out there.